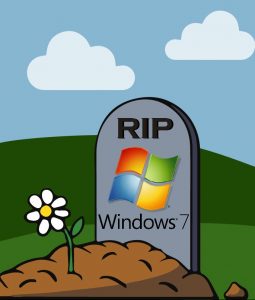 Dearly beloved, we are gathered here today to say farewell to our dear old friends, Windows 7 and Windows Server 2008. Born on October 22, 2009, Windows 7 was a reliable computing friend for more than ten years. However, technology has changed dramatically since then and it's time to make plans to transition to next generation OS, Windows 10.
R.I.P Windows 7 means no more security updates, patches or system updates will be released to protect you from viruses, malware, spyware, crashes or theft of personal information. Your machine will be at risk and dangerous to use, as hackers and other nefarious individuals will target these machines that are still out there but are no longer being supported.
This is such a serious threat that all companies housing financial and medical information are being required by law to upgrade any and all computer systems running Windows 7 and Windows Server 2008 because firewalls and antivirus software will NOT be sufficient to completely protect them (or you).
Now is the time to start budgeting and planning for this big change and we are here to help. If you would like more information or any assistance, call us today at (512) 388-5559.