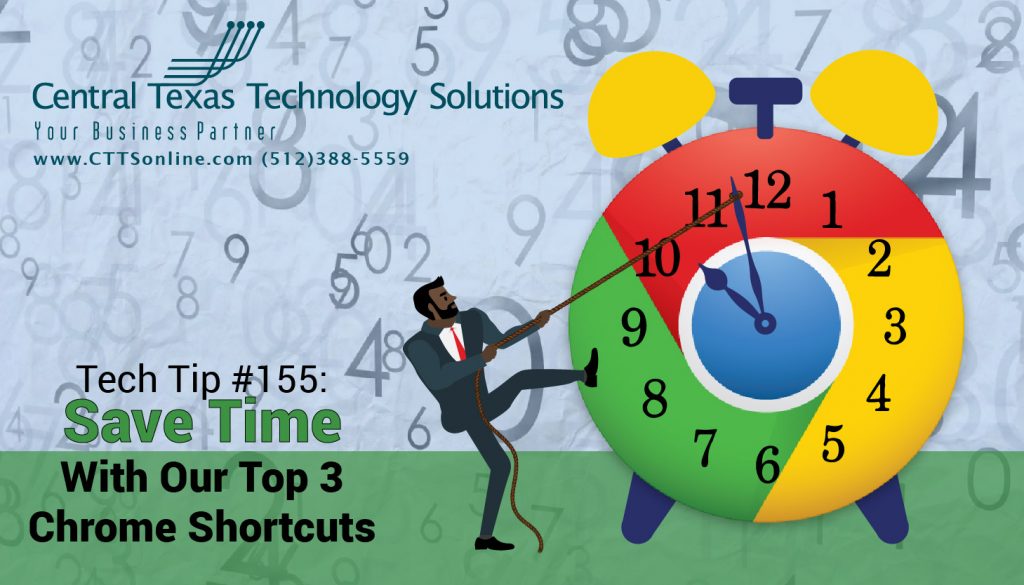 No matter how driven, focused, or hard-working you are, growing a small business takes time and effort.
It can be a challenge to make the most of every minute when you are constantly being pulled in multiple directions, and as we all know, wasting time is synonymous with wasting money.
To help you work more efficiently and improve your bottom line, I have scoured the internet to bring you the top 3 shortcuts for Chrome that will save the day:
Tip #1:  Last Tab Back
Ever close a tab in Chrome by accident?  No need to yell at your computer anymore.  Just hold CNTRL + Shift + T and the tab will magically return.  This will also work for multiple tabs that you have closed, even if you closed Chrome.  Just reopen Chrome and CNTRL + Shift + T
Tip #2:  Easy Scrolling
To easily scroll up or down on a website, no need to use your finger or the directional arrows anymore, just tap the spacebar to scroll down or shift + spacebar to scroll back up.
Tip #3:  Bookmark Bonanza
Why have separate bookmarks for each site you always use?  To bookmark all the current tabs you have open, just hold CNTL + Shift + D.  Give it a name like "Workspace,"  and the next time you open Chrome, that name will be in the bookmarks area.  Right click "Workspace" or whatever you decided to name it, and click "open all."  Now, you are ready to start your day.
With all the time you saved, grab yourself a coffee, you deserve it!
I hope these tips will make your online life easier. Please feel free to forward them on to someone else who may also benefit from these tips.
As always, feel free to contact CTTS if you'd like to learn more or for a free IT Assessment to see where your business currently stands, contact CTTS today: (512) 388-5559.