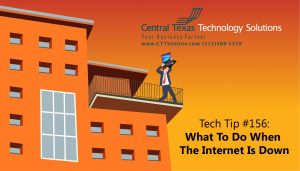 Our friend, Mark, is back and this morning he rolled into work to try and take care of business, but the internet is out! Mark's entire day is put on hold - he cannot check his email, access the cloud-based CRM, use Teams, or do anything productive on his work computer. Mark is not one to sit idly and neither are his Clients. Before he throws his laptop off of the balcony, here are a few things he can do to try to bring his computer back online so that work can commence!
No internet connectivity? 😡 We've all been there, but what can we do?
First, see how many different devices are unable to connect to the internet.
One Device With No Connectivity:
Try restarting that device. Often, a restart will cause that device to get a new IP address and reconnect it to the network.
Check the connection – if it's wired with an ethernet cable, try reseating the cable or trying a different cable or port. If it's wireless, ensure the wireless card is on (turn off airplane mode, make sure the card is on. Sometimes there is a simple switch to disable or enable the wireless)
Try a different connection – for a laptop sometimes there is a place for an ethernet cable, sometimes you can try a different wireless network.
For a wireless connection, you can try forgetting the wireless network and then reconnecting. Before you do this, please make sure you have the right wireless password for your network!
No Devices Can Connect to the Internet:
Restart the network by restarting the modem, then testing. This often is the first step in any internet outage. Unplug the power from your modem, wait 20 seconds, then plug it back in. wait a few minutes and test.
Restart the router, if you have one, next then restart your device. Test after that.
For simple networks, try restarting the modem with a computer directly connected to the port to test, this will eliminate any other devices. If that works, then the issue is with your other network equipment. If it doesn't, the issue is your internet connection and you should contact your Internet Service Provider (ISP) for assistance.
These are not all the steps one needs to resolve the internet connectivity issues, but they are the basic ones that resolve most issues. Internet connectivity issues can be debilitating but many are easily resolved with a few simple steps.
As always, feel free to contact CTTS for this or any computer issues you have. We're here to help! If you'd like to learn more about CTTS or to get a free IT Assessment to see where your business currently stands, contact CTTS today: (512) 388-5559.