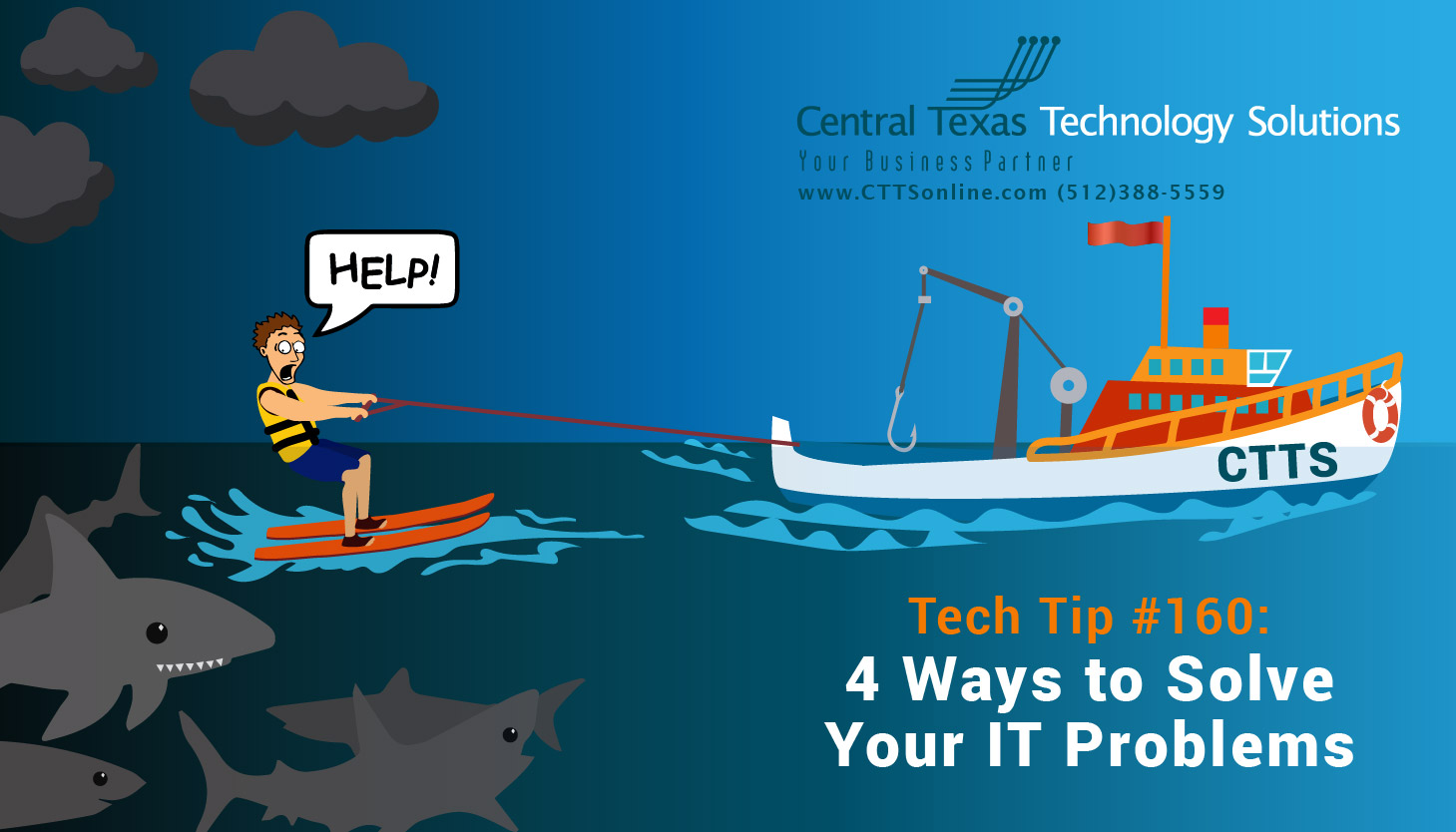 HELP... I Need Somebody!
It's a competitive market here in Central Texas, and in order for your business to survive and thrive, it's vital to keep innovation and ideas for improvements top of mind. Adding on new business technology to your daily operations is a crucial part of the growing process. Without regularly investing in technology in a way that promotes both progress and high performance, your business operations will fail to keep up the competition.
However, bringing new technology into your specific business environment comes with its own set of challenges. As with all change, during the process of identifying or adopting new solutions, you are likely to encounter several barriers to your productivity and the efficiency of your employees.
CTTS is here to help you and your business overcome any information technology obstacles you may encounter, whether it's relating to new or existing equipment, software, and services. There are many ways you can ask for help and I am here to tell you about them.
If you are not yet an established Client with CTTS, you'll need to call us first to schedule an onsite consultation for us to assess your existing IT infrastructure and potential future needs. If you are already a Client, here are 4 easy ways to contact us so we can help solve all your IT problems:
Send An Email To Support@CTTSonline.com – this automatically creates a ticket in our system and assigns it to the appropriate technician. The tech is alerted to the issue and will contact you within 4 business hours.
Call (512) 388.5559 – Anyone that picks up the phone will either be able to create a ticket for you containing details of your situation or will send you to a technician who can assist.
Use The New IT Support Application – CTTS Managed Services clients have an IT Support panel application. Open it up, click Create Ticket and fill the form out, and it creates a ticket. From the application, you can Create a ticket, review your open tickets, Send feedback, see more information about our helpdesk, or fill out a survey. You can also see your latest Tech Tips!
Contact Your Technician Directly – Each of CTTS Managed Services clients have a dedicated technician assigned, and that technician is passionate about making sure your business runs smoothly. Dial their direct line, send them an email, or catch them onsite in person and ask for a ticket.
After Hours? – Is your issue especially urgent? On weekends, or for urgent issues outside business hours, call (512) 388-5559 and leave a voicemail. The voicemail message is transcribed to a ticket and emailed to our technicians. The next available tech will call and assist.
Tickets are also created for other reasons: preventative maintenance, automated alerts, new purchases of hardware or services. A ticket is part of each tech's workflow – if there is no ticket, it didn't happen! Thanks again for choosing CTTS for your technology needs.
As always, feel free to contact CTTS for this or any computer issues you have. We're here to help! If you'd like to learn more about CTTS or to get a free IT Assessment to see where your business currently stands, contact CTTS today: (512) 388-5559.