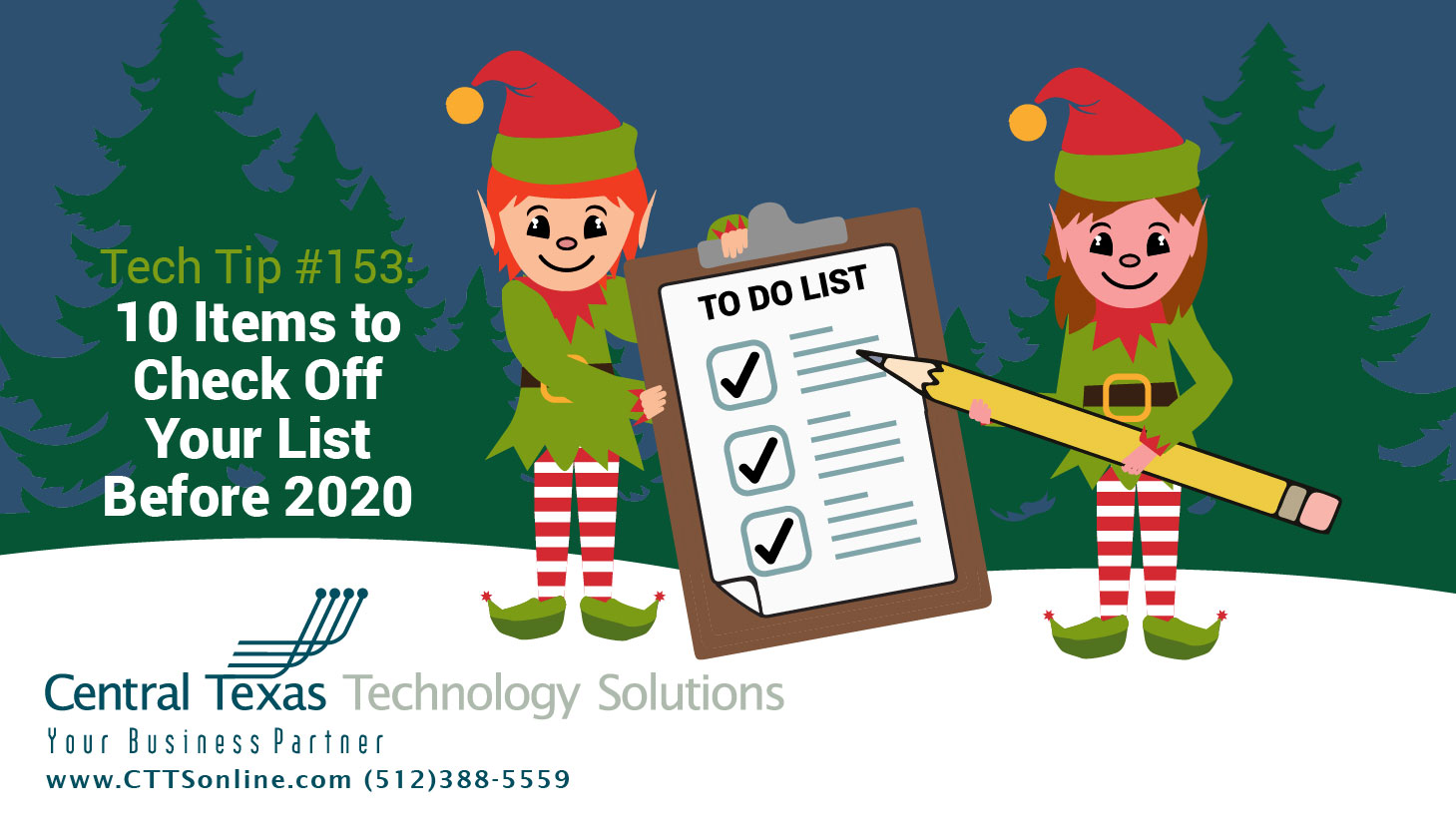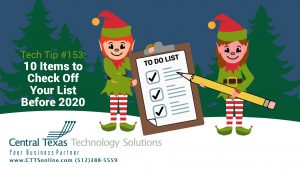 As another year comes to an end, the time for reflection on the past 12 months in conjunction with preparation for the new year is now, and time is running out! Poor planning leads to poor decision making and numerous potential downtime situations. There are a number of items that you need to review in order to ensure a smooth transition into the 2020 business year.
Does your IT need a little TLC before the clock strikes midnight on December 31?
Here are 10 things to check before December 31, 2019 to keep your business up to speed in 2020:
Keep Track of Your Investments - Take a full inventory of all your hardware, software subscriptions, software licenses, mobile devices, and networking equipment. Keeping an up-to-date list will help with the rest of the items on the list, will help see what you have and help you know who is using what.
Keep Technologies Up-To-Date - Are you ready for the Windows 7 end of life? If you are running Windows 7 on any of your systems or have a Windows 2008 Server, see #4.
Test your battery backups - Like most batteries, those have a limited lifespan. Environmental factors and age can reduce that lifespan. If their capacity and runtime are diminished, see #4
Purchase Any New Hardware for Tax Deductions - Have your warranties all expired? Consider what would happen if one of those systems had a hardware failure – are you looking at downtime and loss of productivity? New hardware with a business-class warranty will reduce any downtime you may experience
Practice Password Security - Are you and your team all using last years' passwords? Use these guidelines to update it. Best practice is to update passwords every 90 days.
Back It Up - Backup and test your backup of your business's critical systems and data.
Clear out the dust – empty your email's Deleted Items folders, remove any folders and files you do not need, and literally clean the dust from your system.
Stay Updated - Make sure your software and security software is up to date.
Review any Technical support issues – Does one of your systems continually have issues? Is your network slow? Is your IT support meeting your needs? This is a good time to re-evaluate your IT systems and other processes to make sure you're up and running at full speed.
Make Goals for 2020 - What are your technology goals? Having a wish list and a plan will help you focus, establish priorities, and achieve those goals in 2020.
At CTTS, we take a proactive approach when it comes to the security of our Client's businesses. CTTS can help you with any of these items listed here and provides many of them as part of our managed IT services for local businesses. With these best practice policies in place, your business will be ready for the new year!
If you'd like to learn more or for a free IT Assessment to see where your business currently stands, contact CTTS today: (512) 388-5559.